SA312 TP316L Stainless welded tube Thailand Project
We use our factory SA312 TP316L stainless welded pipe at Thailand project and got a good reputation of quality. SA213 TP 316L welded tubes and SA312 TP 316L welded pipes.
SA312 TP316L Welded pipe standard: ASME SA312 specification covers seamless pipe and welded pipe for austenitic stainless steel. These high performance austenitic stainless steels have a fully austenitic microstructure in the quench annealed condition.
We specialize in manufacturing and exporting stainless SA312 TP316l welded steel pipeline, with a large number of sophisticated equipment and high-end talent in pipeline engineering materials, stainless welded pipe welding technology, stainless welded piping and pipeline construction technology, pipeline corrosion protection technology. Our product is used across numerous industries worldwide, including Oil & Gas, infrastructure construction, energy, marine, mining, chemical.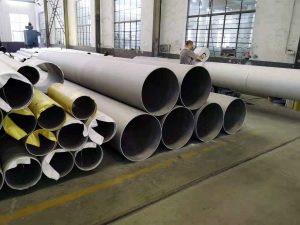 Stainless TP316L welded pipe production range: ASME SA312 pipe dimensions

OD12.7 to 2500mm, Thick:0.8mm-60mm, Length 500mm to 13000mm
Adopt standard: ASME SA312, ASME SA312, ASTM A213, ASME SA213 and others.
SA312 TP316L Welded pipe Chemical Composition
Grade
UNS
Design
Composition, %
C
Mn
P
S
Si
Cr
Ni
Mb
Ti
Nb
N
Cu
Ce
B
Al
SA312 TP316L
S31603
0.035
2
0.045
0.03
1
16.0–18
10.0–14
2.00–3
. . .
. . .
. . .
. . .
. . .
SA312 TP316L Welded pipe Tensile Requirements
Grade
UNS
Designation
Tensile Strength, Min. ksi [MPa]
Yield strength, min ksi [MPa]
other
SA312 TP316L
S31603
70 [485]
25 [170]
sA312 TP316L Welded TUBE Heat Treatment Requirements
Grade
UNS
Designation
Finished
Heating Temperature
Cooling/testing Requirements
TP316L
S31610
Hot
1900 °F [1040 °C]
See Spec
SA312 TP316L Welded pipe Elongation Requirements
Elongation in 2 in., min, %
longitudinal
Transverse
Grain size
Longitudinal
Transverse
35
25
35
25
 According to standard
Production Capacity: 30000ton/Year
Payment Terms: L/C, T/T, D/P, Western Union, Paypal, Money Gram
Customization: Customized logo (Min. Order: 2 Tons)
Customized packaging (Min. Order:  Tons)
Delivery time: 20days
SA312 TP316L Stainless welded tube Thailand Project