ASTM A312 TP347 Seamless tubes exporter
ASTM A312 Stainless seamless tube, Stainless steel welded pipes ASTM A312 TP347 pdf,ASTM A312 TP347 Seamless pipes,Stainless steel Seamless pipes A312 TP347,ASTM A312 TP347 Stainless seamless tubes.
Keywords:
A312 TP347 Stainless Seamless pipes, A312 TP347 Stainless seamless tube, Stainless steel Seamless pipes ASTM A312 TP347, Stainless steel Seamless pipes TP347 pipe price,
A312 TP347 Seamless Specification: ASTM A312 specification covers seamless pipe and welded pipe for austenitic stainless steel. These high performance austenitic stainless steels have a fully austenitic microstructure in the quench annealed condition.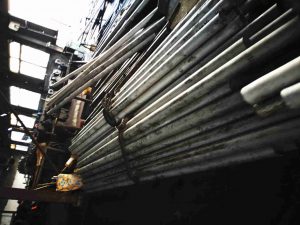 We produce ASTM A312 TP347 Seamless tube from China. The wall thickness from 0.8MM to 60MM. We export ASTM A312 TP347 Seamless pipes and supply in 20days.
Ryin Stainless stock a wide range of industry standard sizes of ASTM A312 Seamless Stainless-Steel Pipes. all quality parameters checked by experienced and good knowledge staff.
ASTM TP347 Seamless tube production range: ASTM A312 pipe dimensions

OD10 to 2500mm, Thick:0.8mm-60mm, Length 500mm to 12000mm
Adopt standard: ASTM A312
A312 TP347 Seamless tube Chemical Composition
Grade
UNS
Composition, %
Design
C
Mn
P
S
Si
A312 TP347
S34700
0.08
2.0
0.045
0.030
1
Cr
Ni
Ti
Mo
N
17-19
9-13
A312 TP347 Seamless tube Tensile Requirements
Grade
UNS
Designation
Tensile Strength, Min. ksi [MPa]
Yield strength, min ksi [MPa]
Elongation in 2 in., min, %
A312 TP347
S34700
75 [515]
30 [235]
35
A312 TP347 Seamless tube marking:
Nominal Pipe Size (Nominal Bore)
Schedule (Wall Thickness)
Specification
Material Grade
Method of Manufacture (Seamless or Welded)
Heat Number
Manufacturers Name or Symbol
A312 TP347 Permitted Variations in Wall Thickness
In addition to the implicit limitation of wall thickness for seamless pipe imposed by the limitation on weight in Specification A999/A999M, the wall thickness for seamless and welded pipe at any point shall be within the tolerances specified in ASTM A312 Table, except that for welded pipe the weld area shall not be limited by the "Over" tolerance.
The wall thickness and outside diameter for inspection for compliance with this requirement for pipe ordered by NPS and schedule number is shown in Table X1.1 at ASTM A312
A312 TP347 Seamless tube Referenced Documents
ASTM Standards:
A262 Practices for Detecting Susceptibility to Intergranular Attack in Austenitic Stainless Steels
A370 Test Methods and Definitions for Mechanical Testing of Steel Products
A941 Terminology Relating to Steel, Stainless Steel, Related Alloys, and Ferroalloys
A999/A999M Specification for General Requirements for Alloy and Stainless Steel Pipe
A1016/A1016M Specification for General Requirements for Ferritic Alloy Steel, Austenitic Alloy Steel, and Stainless Steel Tubes
E112 Test Methods for Determining Average Grain Size
E381 Method of Microteach Testing Steel Bars, Billets,1 Blooms, and Forgings
E527 Practice for Numbering Metals and Alloys in the Unified Numbering System (UNS)
ANSI Standards:
B1.20.1 Pipe Threads, General Purpose
B36.10 Welded and Seamless Wrought Steel Pipe
B36.19 Stainless Steel Pipe
For us quality always stands first, and we would provide 100% free replacement to our customer. At the same time, we also strive to ensure that our quality for cold drawn stainless steel pipes and tubes is the best in the industry. Our continuous focus on quality, price and service has helped us win many orders from China and overseas.
Ryin Stainless factory welcome you to contact us for best prices for ASTM A312 TP347 stainless seamless  steel pipes and tubes.
ASTM A312 TP347 Seamless tubes exporter