ASTM A312 TP304 Stainless steel welded pipes supplier
ASTM A312 TP304 welded pipe, Stainless Tp304 pipe, Tp304 stainless pipe of welding, ASTM A312 TP304 Stainless steel welded tubes, TP304 welded pipe, A312 TP304, SA312 TP304, A312 Grade Tp304
stainless steel welded pipe a312 tp304 stainless steel welded pipe fittings a312 tp304,stainless steel welded pipe manufacturer a312 tp304 in Shanghai, stainless steel a312 tp304 welded pipe hs code, ASTM TP304 stainless steel welded pipe manufacturers in china, stainless steel a312 tp304 welded pipe pressure rating,A312 Grade tp304 stainless steel welded pipe dimensions,A312 GR TP304 stainless steel welded pipe sizes
A312 TP304 Welded pipe Specification: ASTM A312 specification covers seamless pipe and welded pipe for austenitic stainless steel. These high performance austenitic stainless steels have a fully austenitic microstructure in the quench annealed condition.
RYIN Stainless Welded pipe factory produce and export of stainless steel seamless and welded pipes per ASTM A312 in Grade of TP304/304L, TP316/316L/316Ti, TP321H, TP SS347H, TP317L, TP904L TP309S/H TP310S/H and SS446 among other special grades. Stainless steel welded tubes are available in compliance with ASTM A312 and ASTM A269 in common grades of such as 304/304L and 316/316L in standard tube sizes and wall thicknesses. We can offer custom size cold drawn stainless-steel pipes and stainless-steel tubes to our customers. Generally stainless-steel pipes and stainless-steel tubes are available in standard OD or NB sizes. However, with our tube processing capabilities we can offer any custom size outside DIA and thickness to our customers.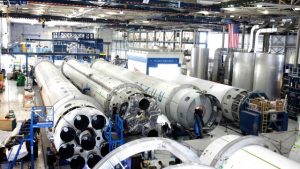 A312 TP304 Welded pipe Chemical Composition
Grade
UNS
Design
Composition, %
C
Mn
P
S
Si
Cr
Ni
Mb
Ti
Nb
N
Cu
Ce
B
Al
TP304
S30400
0.08
2
0.045
0.03
1
18.0–20
8.0–11
. . .
. . .
. . .
. . .
. . .
. . .
TP304L
S30403
0.035
2
0.045
0.03
1
18.0–20
8.0–13
. . .
. . .
. . .
. . .
. . .
. . .
TP304H
S30409
0.04 – 0.1
2
0.045
0.03
1
18.0–20
8.0–11
. . .
. . .
. . .
. . .
. . .
. . .
A312 TP304 Welded pipe Tensile Requirements
Grade
UNS
Designation
Tensile Strength, Min. ksi [MPa]
Yield strength, min ksi [MPa]
other
TP304
S30400
75 [515]
30 [205]
TP304L
S30403
70 [485]
25 [170]
TP304H
S30409
75 [515]
30 [205]
TP304H
S30415
87 [600]
42 [290]
A312 TP304 Welded pipe Heat Treatment Requirements
Grade
UNS
Designation
Finished
Heating Temperature
Cooling/testing Requirements
TP304H
S30409, S30415
Cold
1900 °F [1040 °C]
See Spec
TP304H
S30409, S30415
Hot
1900 °F [1040 °C]
See Spec
A312 TP304 Welded pipe Elongation Requirements
Elongation in 2 in., min, %
longitudinal
Transverse
Grain size
Longitudinal
Transverse
35
25
35
25
 According to standard
Our 304 Stainless Steel Welded pipe manufactured from cold-forming process using coils of steel sheet with automated spiral welds. Great strides were made in quality control, testing, joints and protective coatings. Welded steel pipe is available in wide ranges of sizes and properties of the steel. These ERW Pipes carry high strength, ease of installation, high flow capacity, leak resistance, long service life, reliability and versatility, and economy.
A312 TP304 Welded pipe ship marking:
Markings will adhere to prescribed specifications in A999/A999M.The pipes surface shall include wall thickness, heat number ,NH ,ET and UT.
Referenced Documents:
ASTM Referenced Standards
A262 Practices for Detecting Susceptibility to Intergranular Attack in Austenitic Stainless Steels
A370 Test Methods and Definitions for Mechanical Testing of Steel Products
A941 Terminology Relating to Steel, Stainless Steel, Related Alloys, and Ferroalloys
A999 A999M Specification for General Requirements for Alloy and Stainless-Steel Pipe
A1016/A1016M Specification for General Requirements for Ferritic Alloy Steel, Austenitic Alloy Steel, and Stainless-Steel Tubes
E112 Test Methods for Determining Average Grain Size
E381 Method of Macroetch Testing Steel Bars, Billets, Blooms, and Forgings
E527 Practice for Numbering Metals and Alloys in the Unified Numbering System (UNS)
Relate search of people;
what is the difference between A312 TP304 seamless and welded stainless steel pipe?
A312 TP304 stainless steel welded pipe China price, pressure rating of a312 tp304 welded stainless steel pipe, A312 Grade tp304 stainless steel pipe seamless or welded, schedule 40 welded stainless steel pipe pressure rating, welded stainless steel pipe pressure rating, stainless steel welded rectangular pipe, stainless steel welded pipes, stainless steel welded pipes china, A312 TP304 stainless steel pipe seamless vs welded,TP304 seam welded stainless steel pipe ,a312 gr tp304 stainless steel welded pipe tolerances