ASTM A213 TP304H Seamless heat exchanger tubes manufacturer
We are ASTM A213 TP304H seamless tubes supplier, ASTM A213 TP 304H heat exchanger tubes factory, A213 Grade 304H stocklist and A213 TP304H Stainless exporter.
Relate keywords: A213 TP201 alloy steel tubes, A213 TP201 austenitic stainless steel,A213 TP201 boiler tubes,A213 TP201 ferritic stainless steel,A213 TP201 heat exchanger tubes,A213 TP201 high-temperatureapplications,A213 TP201 seamless steel tubes,A213 TP201 steel tubes,A213 TP201 super heater tubes,A213 TP201 temperature service applications-high.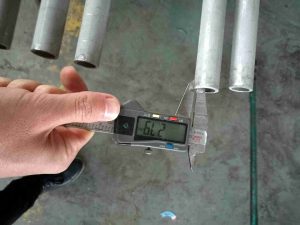 ASTM A213 TP304H specification: This Standard Specification are for Seamless Ferritic and Austenitic Alloy-Steel Boiler Superheater and Heat-Exchanger Tubes.
This specification covers seamless ferritic and austenitic steel boiler, superheaterand heat-exchanger tubes. The Mainly Grade are TP201 TP202 XM19 TP304 TP304L TO304H TP304N TP304LN TP309S TP309H TP310S, TP310H TP316,TP316L, TP316H, TP316TI, TP316N,TP316LN, TP317, TP317L, TP3221,TP321H, TP347 TP347H, TP348, TP348H andTP444.
Ryin Stainless factory is specialized in suppling welded pipe and seamless stainless pipes. All of A213 TP304H tubes are made by the seamless process and are either hot finished or cold finished as specified. Heat treatment shall be carried out separately and in addition to heating for hot forming.
All of austenitic stainless tubes shall be furnished in the heat treatment condition and shall be heat treated in accordance with the requirement of A213 Standards.
A213 TP304H seamless tubes production range:
Thickness: 0.5mm to 50mm
OD:10mm to 2500mm
A213 TP304H seamless tubes Tolerance:
Permitted Variations in Average Wall Thickness for Hot Formed Tubes
Tolerance in %, from specified
NPS [DN] Designator Over Under
1⁄8 to 21⁄2 [6 to 65] incl, all t/D ratiosA 20 12.5
Above 21⁄2 [65], t/D # 5 %A 22.5 12.5
Above 21⁄2 [65], t/D > 5 %A 15 12.5
A t = specified wall thickness D = specified outside diameter
A213 TP304H seamless tubes Chemical Composition
Chemical Composition % Austenitic and Ferritic Stainless Seamless tube
Grade
UNS
C
Mn
P
S
Si
Cr
A213 TP304H
S30409
0.04-0.08
2.0
0.045
0.030
1
18-20
Ni
Mo
N
Ni
Ti
8-11
A213 TP304H seamless tubes Property:
Tensile and Hardness Requirements  A213 TP304H Seamless pipes
Grade
UNS
Tensile
Yield
Elongation
Hardness
A213 TP304H
S30409
min
min
mikn
HBW
HRB
Max
515
205
35
192
90
A213 TP304H Equal grade:
You can use the A213 TP304H or SA312 TP304H or A312 TP301 Seamless pipes
A213 TP304H seamless tubes Delivery time: 20days.

If you have purchase requirement at A213 TP304H seamless tubes, please feel free to contact us by email.